Happenings
Client Events
Other Happenings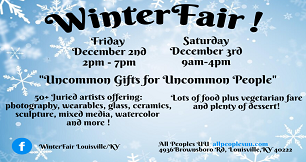 WinterFair! 2022
December 2, 2022 December 3, 2022 ·
This year's WinterFair presents over 80 artists in two church buildings (plus Bold & Cold artists outdoors!). You'll find all media including ceramics, wood, mixed media, fiber, photography, sculpture, glass, jewelry and much more. Our artists will be glad to tell you about their creations!
https://www.allpeoplesuu.com/share-the-winterfair-2022-postcard-with-your-friends-and-family-dec-2nd-and-dec-3rd/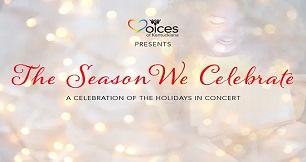 The Season We Celebrate
December 8, 2022 December 9, 2022 December 11, 2022 ·
It truly is the most wonderful time of the year as so many of us gather together to celebrate the holiday season. Join VOICES of Kentuckiana in a celebration that spans a diverse mix of cultures, faiths, and sentiments during this joyous time of year.
https://www.voicesky.org/holiday-concert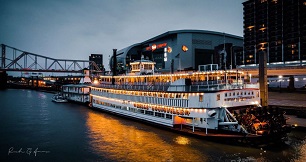 Cookies with Captain Santa
December 3, 2022 December 10, 2022 December 17, 2022 ·
Come aboard the Mary M. Miller riverboat as it transforms into a winter wonderland! This family-friendly event includes a meet-and-greet with Santa and Mrs. Claus, cookies and hot cocoa, a holiday goody bag for each child and plenty of festive activities to get you in the holiday spirit.
https://belleoflouisville.org/cruises/special-events/